Project Description:
PAHR Development wanted to build an office building on land it purchased in a prime high visibility location in Winona, MN. Highly organic, low strength soils on the property created a unique construction challenge, however.  VDC Partners collaborated with the project designer and the owner to design and budget the building.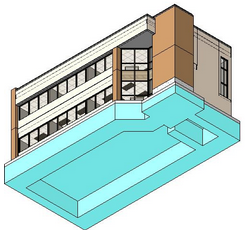 BIM Use:
To address the low strength soil issue, the soils engineer came up with three foundation options to evaluate: (1) deep foundation pilings, (2) over excavation/soil replacement, and (3) "un-load" concrete bathtub. Ben came up with a fourth option: geo-foam soil replacement.  A Building Information Model (BIM) for the project, including the foundation options, was created.  The BIM was used to quantify and illustrate the work, again including all foundation options. The geo-foam soil replacement option was selected as it was much less costly and allowed the building to settle at the same rate as the surrounding decomposing organic soils.  Once the foundation system was selected and the building cost budget established, the BIM was used to create the construction documents.
Project Architect:
Owen Warneke and Associates
Summary:
This early use of Building Information Modeling proved it to be a valuable tool in designing and budgeting the construction project.
"I don't know that the project would have gone ahead without the novel foundation and storm drainage systems Ben came up with. They saved us $20,000"
— Kevin Ewert, PAHR Development.