Project Description:
A 500,000 square feet addition and 200,000 square feet renovation of existing hospital buildings located in La Crosse Wisconsin. Kraus-Anderson Construction commissioned VDC Partners to create a BIM primarily for visualization and to be used in conjunction with MEP BIM's for coordination and clash detection. Construction of the addition began in March of 2011, and the project was completed in early 2014 with the renovation work following completion of the actual addition.
BIM Use:
VDC Partners was hired in August of 2010 to create a concrete and exterior shell model.  After this work was completed in December of 2010, VDC Partners' commission was expanded to include all interior walls, doors, and ceilings.  This work was completed in February of 2011, coincident with the issuance of the interior bid package.  Modeling has continued on an as-needed basis to incorporate 14 CCD construction document re-issues and also as a means of identifying potential construction issues in the construction documents.
Using the model to "pre-build" the building, VDC Partners was able to identify and author RFI's resolving 82 constructability issues, 349 document clarification issues, and 78 document coordination issues. The model was also used to give pre-bid walkthroughs to potential sub-bidders.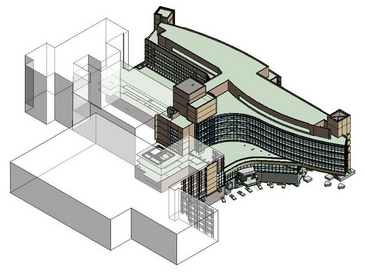 Project Architect:
AECOM (formerly Ellerbe Becket, Inc.)
Summary:
Nearly the entire project was modeled – from pre-construction work, to concrete and exterior shell to interior walls, windows and doors.  Adjacent existing buildings were modeled as shaded masses to allow for better end-of-project visualization.
Kraus-Anderson Construction utilized a more predictable construction schedule as a result of many construction issues already having been resolved.  They also anticipated fewer change orders and a shorter construction schedule, benefits regularly seen throughout the industry on projects using BIM's.
"We are very pleased with the work of VDC Partners.  They have added value to the Gundersen Lutheran Hospital Project."
— Tom Jorris, Vice President, Kraus-Anderson Construction