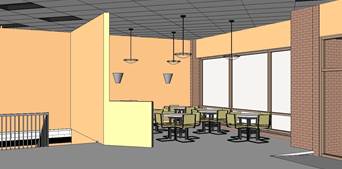 Project Description:
Community Bible Church had outgrown its older facility and needed a larger facility that better matched its mission and growing size.  In 2007, the church purchased a downtown building with the intention to move in, and then renovate while they occupied it.  They hired Building Value Partners, a predecessor to VDC Partners, to work with their architect to create BIM's to help them plan and budget the renovations.  The project was divided into 4 phases (Phase 3 shown below) to allow the work to be completed while the church used the building.
BIM use:
The BIM was created to show the work involved in each phase and was used to help the building committee and congregation visualize what the facility would look like and how it would function at each phase of the renovation.  These visualizations and quantity take-off reports produced from the model were issued to bidding subcontractors along with traditional construction documents.
Project Architect:
Owen Warneke and Associates
Summary:
Community Bible Church used the BIM's to visualize their current space, as well as plan how they would work around the renovation. Upon request, VDC created several design options for the church, showing different possibilities before construction began.