Project Description:
WSU Facilities Management hired VDC Partners to create an accurate, but cost-effective BIM for Phelps Hall to give their team a better tool for understanding the current building conditions.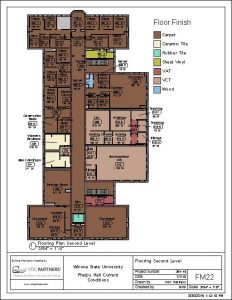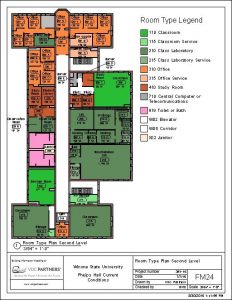 BIM Use:
VDC Partners created a BIM of Phelps Hall and the immediate campus grounds that accurately represented existing conditions.  Combining actual construction documents, later renovation plans and field verification, the VDC Partners BIM provides virtual 3D images of the building as well as 2D plans for the entire building, including standard Dimension Plans, Room Usage Type Plans, Department Plans, Floor Finish Plans, and Reflected Ceiling Plans.  These views are also supplied sized for 8 1/2″ x 11″ paper for easy use by other campus stakeholders (see left).  The VDC Partners BIM also allows the extraction of important current condition data such as the amount of carpet or total classroom SF in the building.